That was the first time that Nathan connected his Super Heroes (firefighters) to Santa.  That evening when I tucked him into bed, I asked him for ideas for his bedtime story.
He asked me "What would happen if Santa got stuck in a chimney?  Do you think firefighters would help them?"
As Christmas grew closer, he would give suggestions about how Santa got stuck in a chimney and how a firefighter came to his rescue.  Each night he would begin by giving a different scenario.  After a few nights I saw a pattern in our story telling so after he fell asleep each night, I would go to my computer and write down the story that we just made up.
By Christmas, we had a lot of different adventures that Santa and his Super Hero would go on.  They would all begin the same way; Santa would get caught in a chimney and a firefighter, his Super Hero, would pluck him out of the chimney. Later that year, I found the stories on my computer and thought that I would put it into a story book for Nathan.  I wrote out the story similar to what we have today and the next year I would read it to Nathan as we got closer to Christmas instead of making up the stories.
Jump forward to the winter of 2014.  Christmas was approaching once again and Nathan asked me "When are we going to make this a real book?" I have been talking about it for the last few years but nothing came of it.  So I told him it was time we get it into print.
So, that is how we came up with a story about how a firefighter helped Santa when he got stuck in a Chimney.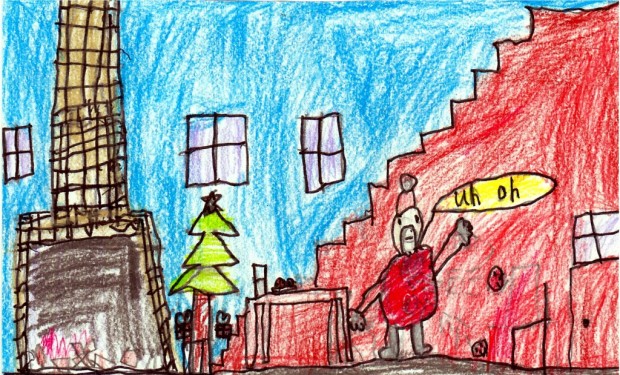 Who wants to be a Super Hero?
Getting a book illustrated, published and launched is quite a costly endeavor.  We have set up this fundraising to help pay for these expenses. We implore you to help fund this idea. The more money we can get from contributors to pay for these expenses, the more money we will have to give to the BC Professional Fire Fighters' Burn Fund.